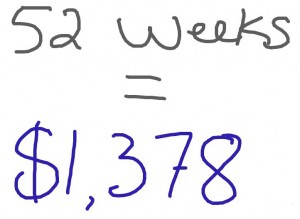 Last year around this time, I saw a number of people and Facebook pages share information around the 52-week money challenge.
It sounded interesting and I suggested that Matt and I give it a try.
Some things I learned from this experience:

Reverse order your weekly payments
I highly recommend that you do the weekly amounts backwards. That means for the first week of January, you save $52, the following week it's $51, and so on.
I didn't hear about this suggestion until we were more than halfway though the challenge. It can get pretty tough to poke away a good chunk of change in December when there are a lot of holiday-related expenses.
It's easier to be motivated at the beginning and penny pinch after a busy holiday season. And if you think about it, the last payment in December is $1 on Christmas Day.
Don't store it in a jar. Put it in the bank!
Now you're probably thinking I'm suggesting this because we spent the money as the year went on. Well you're wrong. But why put money in a jar that will do nothing but collect dust?
There are lots of high-interest savings accounts out there and if you're concerned that you'll spend the money or transfer it to another account, well you just need to have some will power. It's worth it to see how much you'll have saved by December 31.
And it's probably not a good idea to have a giant wad of cash in your house… Especially if you tell anyone that you're doing the 52-week money challenge…
When you do put it in the bank, set up scheduled transfers
When we were doing the challenge with cash, I found it fairly easy to keep up with my weekly commitment. I'm a Topsail and I tend to have some cash available since I need to bring a couple of floats to the weekly meeting.
It worked for me, but neither Matt nor I normally carry a lot of cash and we're much more likely to use a bank card or credit card for day-to-day purchases.
That meant that Matt sometimes found himself owing money to the weekly challenge and often had to play catch-up (which can hurt the regular weekly expenses pretty hard if you're suddenly withdrawing $100+).
Once we moved to a bank account, I then found it difficult to remember to pay into the challenge. I do a fair bit of online banking, but it's easy to fall behind in the transfers or to forget or even say "Oh I'll take care of that next week."
This year, I'm going to schedule transfers from our account that come out during our pay week. It'll take care of the previous week and the current week to help keep us on track. I've already set up automatic transfers for the next three months and it really didn't take long to do.
I also chose to have the transfers happen around payday since there will be a surplus of money I the main account and we won't even really notice that it's gone.
If you have more than one adult in your house, double your savings!
If you can financially swing it, I highly recommend that you have more than one person do this because you'll have twice as much at the end of the year. We now have around $2,760 saved with little effort.
So that's it. Those are my suggestions if you're going to do the 52-week money challenge.
How about you? Have you done this before? Do you have any tips?
What did you do with your savings or how will you spend it later? We're actually using the money to help cover some of the costs of Missy Moo's daycare expenses once she's in a formal daycare in the spring.