In case you didn't know, I also have a Tumbr account – http://vmiddleton.tumblr.com/.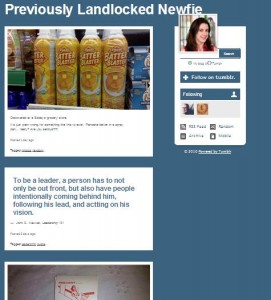 Because I have a wonderful little Motorola Milestone, updating this blog and my Tumblr are very painless. I'll admit that I'm updating my blog more from a desktop/laptop because it's faster, but the option is still there.
My Tumblr will serve more for sidebar commentary and more random in-the-moment findings. It'll have shorter posts that will likely include more multimedia like videos and photos. There's a nice easy option for quotes too which I'll toss up from time-to-time when it comes up.
Anyone else using Tumblr? I only follow one person and that's the lovely onthemetro.