My blogging is s little sporadic right now, but it's a busy time is year for us with the holidays here.
Social gatherings and time with family are turned up to 11 and it's my favourite time of year.
This is also Miss Moo's first Christmas and seeing her react to so many new things and first experiences is a lot of fun.
It's a pretty normal tradition to have your child's photo taken with Santa st a local mall. I'll share one of my old photos later.
We weren't going to do the official mall photo this year, but my cousin, who is also Missy Moo's Godmother wants to start a tradition of taking her to have her photo with Santa each year.
I think this is a fabulous idea! It's something they'll enjoy each year.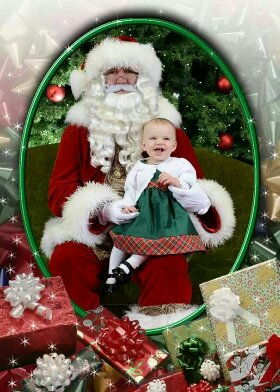 I have to say that I'm pretty impressed with the photographers at the Avalon Mall. Just look at the face on her. So cute!
More Christmas photos to come.
Is there anything you've done this Christmas that's an annual tradition? Even the smallest thing can make this time of year special.