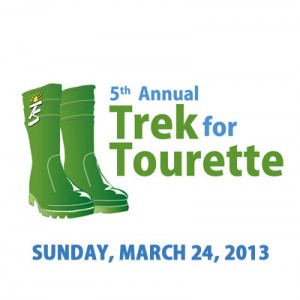 The Trek for Tourette is coming up on Sunday. I'm pretty behind in my fundraising, but given the fact that I gave birth to our beautiful little girl, I'm going to give myself a break and be pleased with any support I do help raise.
Why am I trekking on Sunday? I'll tell you why. There's one big important reason…
Last year I was in Taiwan and wasn't able to trek, but in 2011 I did trek and blogged about why. I was diagnosed at six with mild Tourette's Syndrome (TS). It's a part of me. No big deal.
But now that I'm a mom and things are different. Our little girl may or may not have some form of this disorder (or it's associated partners in crime like OCD and ADHD). If she does, then I want to make sure an organization like the Tourette Syndrome Foundation of Canada is around to provide resources and support that she can access.
Even if she doesn't have TS, she'll still likely attend national conferences with her parents and she'll meet families and more importantly kids who have TS. It will be important for her to know about it and be able to support others when they need it. That's how I was raised and it's something I want Miranda to feel is important as well.
Please visit our pledge page http://bit.ly/MiddletonTrek13. I hope you'll consider making a pledge for this important cause.
And if you need anymore convincing…