Valentine's Day is upon us and I'm using today as an excuse to bring up a couple of things.
First off, I have to show you what is probably the most geek-tastic and epic gift that Matt has given me for Valentine's to date…
In case you didn't know, I've dressed up as Wonder Woman a couple of times now for Halloween. For my first Halloween at the Faculty of Medicine (in 2010), I dressed up as Wonder Woman.
Photo by HSIMS
I attended Medical Grand Rounds that day and because I was still very new, the dean gave me a quick intro to everyone who was there… and with a room full of physicians, I was the only one dress up. Ha! I've since been dubbed Wonder Woman and have played that up a bit by telling faculty and staff that "when media call, Virginia can help."
The image to the right was included in an e-newsletter I've started called Medi-zine. The write up with this photo was encouraging faculty and staff to contact me if they're interested in receiving media relations training and support (which I facilitate for medicine).
Now I have a mini-me to live on my desk and help portray that super hero confidence I try to bring when discussing how I can be there for anyone in the faculty who needs help.
On to other things…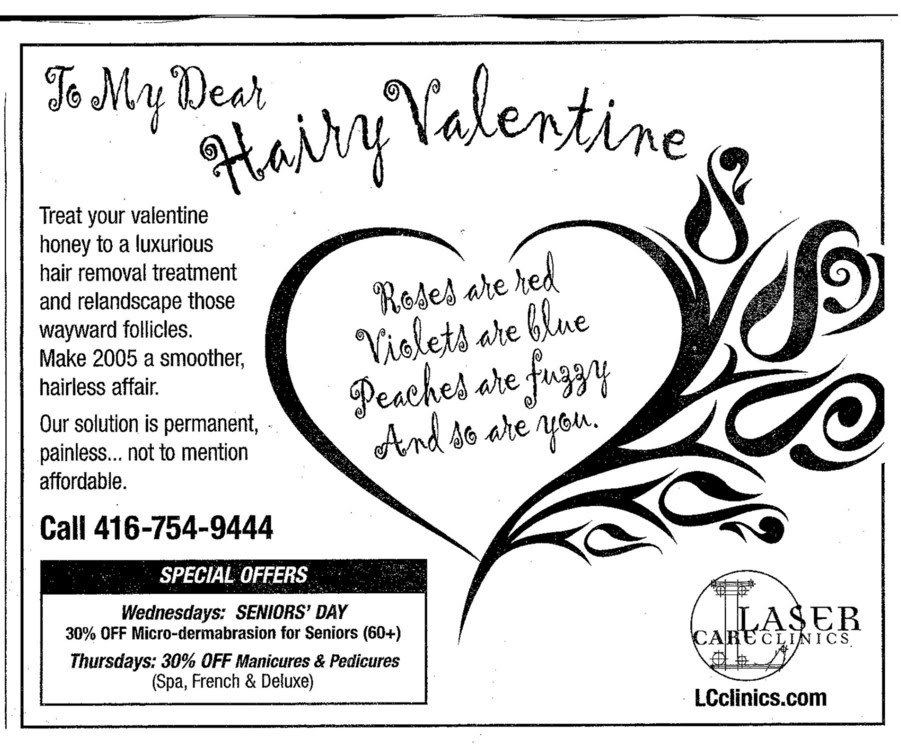 "But Virginia, what the deal with this image?" you ask?! Well it was an ad I found in Toronto Metro, a commuter magazine back when I was at Centennial College in Toronto in 2005. I can't help but share this on Valentine's Day when so many people get caught up in the consumerism of this occasion. Yes I enjoy being spoiled by my awesome husband, but it doesn't have to be on some random day in February that was declared the annual day of love.
I mean really, couldn't we do this during a time of year that's warmer? Or is the idea that we're suppose to feel warm and fuzzy during one of the coldest and weather crappiest months?
And finally…
If today is a day that really makes you go "Bah humbug" or some other phrase that involves some colourful four-letter words, then I recommend you pop over to Someecards… because they have some pretty awesome Valentine's (or perhaps more anit-Valentine's) ecards that will likely make you chuckle.