Yesterday, I explained the idea of taking on #19for2019 and outlined goals one to nine. There were some successes, some decent attempts and some unrealistic expectations that round out these past 12 months.
So how did the other 10 goals do now that the New Year is mere hours away?
Reminder of the 19 goals for 2019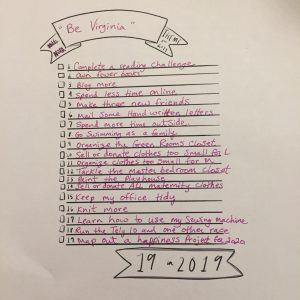 Goals #10 – 19
10. Sell or donate clothes too small for L – Minimal success. Funny thing about tiny humans… even if they stay relatively small, they still manage to grow and need larger clothes. This goal has been a constant struggle as our tiniest human grows more each day. I'd like to sell some of the clothing, but I'm also in favour of donating some of it… but both actions take up time no matter what. I'm hoping to work on a strategy to address this in January.
11. Organize clothes too small for M – Minimal success. Because the eldest of our tiny humans is so ridiculously tall and continues to grow at a rather fast rate, it's hard to keep up with what fits and doesn't these days. Pants magically become too short (some times overnight it seems!). I've been able to pass along some of the smaller sizes that we won't need for awhile, but I'd like to work out a better system than what I currently have.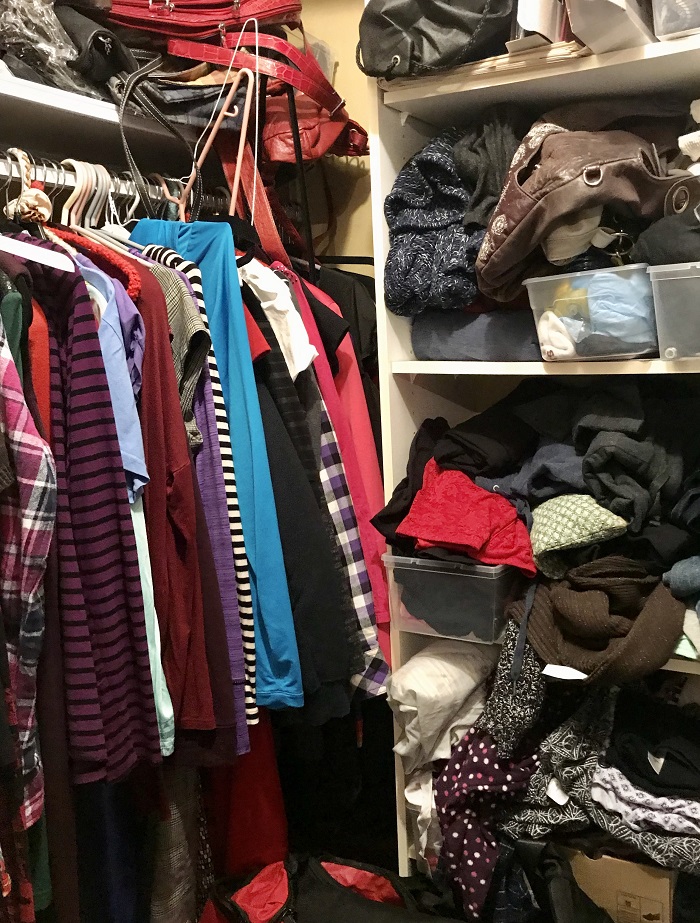 12. Tackle the master bedroom closet – NOPE! By definition, we have a walk-in-closet in our master bedroom… but in its current state, it's really more of a lean in closet. This goal was neglected at an impressive level. I have plans on how to handle this space and a few others in 2020.
13. Paint the playhouse – Success!! I'm not a fan of ladders, but I managed to climb up on, balance upon and not test gravity all while slathering on a nice coat of stain on the swing set and playhouse in the backyard. If you had been in our backyard when I was reaching for some of the trickier and high up places, you would have heard me quietly chanting "I'm not going to fall. I'm not going to fall. I'm not going to fall" with such concentration, you'd think my life had depended on it.
14. Sell or donate all maternity clothes – Success! I'm pleased to say that I can confidently guess that there are just a handful of maternity clothes still in the house. I just need to bag them up and drop them off as donations in the New Year.
15. Keep my office tidy – Success! Disclaimer: it's important to include goals you can consider to be low hanging fruit when you're trying to come up with 19 things you want accomplish in a year… My maternity leave ended early (as we had planned), so I was in fact back in an office for more than 3/4 of the year.
16. Knit more – NOPE! Epic fail in fact. I can't remember the last time I even knit or purled a stitch. I was trying so hard to finish off a few projects in 2018 and had high hopes for 2019. Honestly, I think a more realistic goal is to reorganize my stash of yarn to help inspire me to use some of the fabulous stuff I have.
17. Learn how to use my sewing machine – NOPE! Just to add salt to the wound, I still don't technically have a decent space set up for my brand new machine that has been in the box… for almost two years. I'm determined to get the damn thing out of the box in 2020!
18. Run the Tely 10 and one other race – Tely 10? Success! An additional race? NOPE! Running and setting goals to run races just wasn't a priority this year. I was proud to participate in my eighth Tely 10 this year, but it wasn't exactly a banner year for running. In all honesty, I felt the least prepared this year's Tely than any other year.
19. Map out a happiness project for 2020 – NOPE! What is a happiness project you ask? If you haven't read Gretchen Rubin's book, The Happiness Project, I highly recommend you put it on your to-read list! A happiness project is the idea of taking the 12 months of the year and using them as timelines to focus on certain areas of your life. From personal, to family to professional aspects – anything is on the table as long as it's a priority to you. Looking for some professional guidance? Gretchen offers that too through a course she's developed.
A resolution in a Happiness Project doesn't have to be overly complicated either. Something as simple as "sing every morning" for a month may be a strategy that will add happiness to your life. I'm sure my tiny humans would rather I sing "hurry up and put on your coats we're going to be late!" in a perky tone versus me yelling and losing my cool…
So while a full on Happiness Project hasn't been mapped out, I'm going to take the 12 months of 2020 to really focus on some interesting projects that may in turn, help inspire some Happiness Project goals.
See ya later 2019
I'm heading into 2020 feeling optimistic about a number of things. I'm not sitting here having a pity party about the goals that were missed or the tasks I'm still working on. I did enjoy making a list of things I felt would help in my goal to Be Virginia.
The next 12 months are going to be interesting. We're planning to build a house in the near future and before that can happen, a major declutter MUST happen in our home. It's overwhelming, but I have some ideas and I know that it's something we can see through because our future home will be oh so worth it.